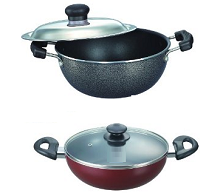 Prestige Omega Select Plus Non-Stick Kadai Starts Rs.550 From Amazon.in
Get Prestige Omega Select Plus Non-Stick Kadai from Amazon at a discounted price of Rs. 550 only. The revolutionary and world's first Omega Select Plus coating from dunpont ensures there is no collection at all. This makes the cookware healthy and long lasting. Prestige is best known for their array of appliances that will make every task of yours into simpler one. Buy sophisticated and promising assortment of kitchen appliances at a reasonable and affordable price. Every woman has the cooking passion on their prior list and such an experience can only be rejoiced when they have preeminent quality of cooking appliances in their kitchen. So embellish the look of your kitchen with Prestige's elegantly produced appliances. Order before you miss the hot deal.
Select Seller Air A Sourcing Company, Olympia Industries Ltd., RK HOMEWARE and INDIA RETAIL.
Add to Shopping Cart
Extra 25% OFF Applied automatically at checkout
Place Order
More offers from Amazon India