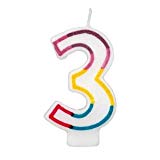 Premsons® Happy Birthday Candle for Numeral 3 (Pack of 1)
About Product :-
-One number 3 shape multi Colour candle. Mix & match it with other numeral candles to display any specific age or date.
-Give your cakes and cupcakes a little flourish for birthdays and more. You can make up any age number, significant or meaningful of memorial day date what you want with your important person in your life.
-This candles with glitter powder only on the front surface, add more funny and decorating on the cake or topper when it light on. The glitter powder is not bad for your health, don't care glitter powder drop down on your cake.
-Ideal for any occasion like birthdays, weddings, reunions, bachorlette or any special event that deserves a celebration, these cake candles are there for you. The candles could easily complement any theme.
-The amazing candle set assorted would give you an unforgettable birthday in your life. create any number combination partner with creative converting for the best in decorations for birthday parties and themed celebrations.
More offers from Amazon India