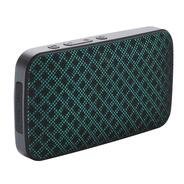 Portronics Vibe Bluetooth Wireless 8W Speaker (POR-938, Blue)
About Product :-
ULTRA-THIN POWERFUL SOUND:- It has a slim form factor (35mm) for the surprisingly loud sound due to its large bass radiating area and superior audio drivers.
CONNECTIVITY:- Offers connectivity through Bluetooth V4.2, USB drive, and FM mode.
OUTPUT:- It has outputs the sound through 2 powerful drivers units of 4W each which are enough to enjoy the quality sound in any corner of a normal sized house.
FUNCTIONS:- Has buttons to serve you with different functions like volume up or down, next or previous track, play or pause, on or off and changing modes of connectivity.
More offers from Amazon India