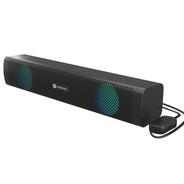 Portronics in Tune 1 6W Portable Wired USB Soundbar Speaker for Laptop/Desktop with LED Light, Sound, 3.5mm Audio Jack(Black)
About Product :-
[DISTORTION-FREE AUDIO OUTPUT] : There are times when you are just enjoying your music and it gets garbled in between! That is absolutely not a favourable situation and really affects the listening process. This soundbar is going to change such scenarios and will be your perfect audio buddy in the long run!
[USB PORT FOR SEAMLESS CONNECTIVITY] : The soundbar has been crafted specially for devices like laptops, PCs, TVs and other USB enabled devices. In Tune 1 makes for the perfect companion to your devices!
[LUCID QUALITY OF BASS] : In Tune 1 has been crafted to enrich your listening experience by ounces and it amplifies the audio that comes through. This simple soundbar is going to make every movie, song a treat to watch and hear.
[PORTABLE FOR EASE OF HANDLING] : The soundbar has a special relevance as it is portable, which makes it the foremost choice for those who are always on the move. You can carry along this soundbar even on long trips and just experience the same comfort as at home!
[ELEGANT AND STURDY DESIGN] : In Tune 1 has been produced with the aim to give you the aesthetic feel everytime you sit down to watch or listen to something.The elegantly designed soundbar appeals every time you use it!
More offers from Amazon India