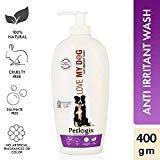 Petlogix Natural Anti Irritant, Anti Bacterial & Fungal Pet Wash Shampoo for Dog & Cat Enriched with Aloevera, Oatmeal & Camomile Paraben, SLS & Mineral Oil Free 400g
About Product :-
ANTI IRRITANT PET WASH SHAMPOO - Puppy Shampoo. Petlogix all natural Anti Irritant Pet Wash Shampoo features oat kernel extracted oatmeal that has natural anti-inflammatory, anti-itch, anti-irritant, and moisturizing properties to create leather on the skin for a healthy, silky and shiny coat wash of your cat, dog, horse or other pet.
ALL-NATURAL INGREDIENTS - Veterinarian recommended 100% natural oatmeal dog shampoo to gently clean and moisturize dry and itchy skin while nourishing your pet's coat using our premium combination of Aloevera, Oatmeal, Camomile Extracts so your pet can easily have a healthy and friendly wash.
FOR EVERY PET WITH FUR- 100% biodegradable and formulated with sustainable botanical ingredients, Petlogix Anti Irritant Pet Wash Shampoo is an ideal choice to naturally reduce skin irritation while cleaning coat of your beloved pet in a proper manner. An ideal choice for kittens, puppies, hedgehog, etc.
100% SAFE AND SIDE-EFFECT FREE: It is made without the use of MEA, DEA, Phosphate, Sulfate and Parabens so you can always ensure an irritation-free and no-tear formula. Ideal flea & tick repellent shampoo to gift your furry friend a spa-like treatment at your place.
EASY TO APPLY: Our offered Tick and Flea Wash Shampoo is appreciated for its unique formula that works just like an ordinary human shampoo. Press dispenser two times in a mug containing 3/4th part water. Apply this solution all over the skin and fur coat of your pet until leather forms then rinse well with water.
More offers from Amazon India