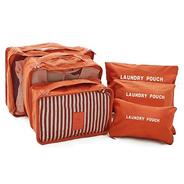 PACKNBUY 6 Set Travel Organizer Laundry Packing Cubes Orange
About Product:-
CONTENTS --- 3 Set Packing Cubes + 3 laundry pouches - Light Cosmetic and Luggage Packing Organizers - Organize Your Belongings and Compress Travel Clothes while protecting them from Stains and Dirt.
DIMENSIONS --- Packing Mesh Cube Bags (L: 40 X 30 X 12 cm, M: 30 X 27 X 12 cm, S: 30 X 20 X 12 cm) + Laundry Pouch Bags (L: 36 X 28 cm, M: 28 X 26 cm, S: 26 X 27 cm)
USABILITY --- Separating clean, dirty clothes, wet towel, shaving, washing tools; storing your shoes with one dedicated bag; protecting your clothes from wrinkle, dust and damage. STURDY & LIGHT - Made of polyester and soft nylon mesh. Mesh top panel for easy identification of contents and ventilation. They are light weight and hold a lot of items.
KEEPS ORGANIZED --- Keeps clothes and small items neat and safe in one bag. It's very convenient and much easier to pack anything from clothes to souvenirs. SEPARATE CLEAN & DIRTY CLOTHES - Protect clothes and luggage from wrinkles, dirty and damage during the traveling.
More offers from Amazon India