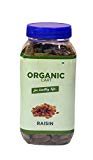 Organic Cart Natural Golden Raisins - Kishmish 100 Grams
About Product :-
Raisins have an abundant supply of fiber in them, which helps to absorb the natural fluids present in the body.
The fiber in raisins helps sweep out toxins and harmful materials from the digestive tract. This can protect people from intestinal diseases, bacterial growth, and discomfort from bloating
Raisins rich in potassium and magnesium, are a natural remedy for acidosis.
Packed in transparent container to display product quality
Organic Cart is committed to provide the best Quality products and the best services to every customer.For more products from us click on OrganicCart written in blue above the title.
More offers from Amazon India