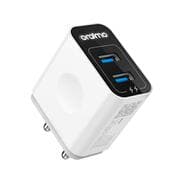 oraimo PowerCube Dual USB Fast Charge with Multi-Protection
About Product :-
oraimo develops cool and creative smart accessory for young people around the world, enableing them to explore more excitement.
Dual-Ultra-Powerful: Forget about taking two charger everywhere you go. With dual USB charger you can charge two devices at the same time. And Each 2 USB ports pump out 10.5 watts of power to charge two devices in full speed.
Smart-LED-Indicator: Built in LED smartly shows charging status.
Multi-Protection: It provides oraimo exculsive surge protection, short circuit prevention, temperature control, and more to deliver unbeatable protection to you and your devices.
oraimo Warranty: We provide 365 days' quality warranty with friendly customer service.
More offers from Amazon India