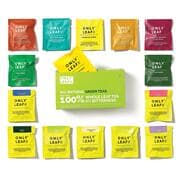 Onlyleaf 100% Natural Green Tea Sampler Box, 15 Tea Bags
About Product :-
FRESH ORTHODOX WHOLE LEAF TEA WITH 100% NATURAL INGREDIENTS: Onlyleaf's Green teas contain unbroken-whole leaves that retain the flavour profile of the tea to the fullest extent. All our ingredients are 100 % Natural .
No dust, no fannings: our teas are processed in a manner that minimizes drying - consequently, our teas ensure that the flavour components like tannins and essential oils are retained to the maximum extent giving you a more flavoursome experience.
Box contains: 1 Teabag each of 15 different varieties: Moringa, Amla, Lemon Ginger Mint, Chamomile, Mint , Rose, Lavender, Tulsi, Turmeric Ginger, Ashwaghanda, Butterfly Pea, Detox Kahwa, Dandelion, Lemongrass, Hibiscus Cinnamon Clove Green Teas.
Rich variety: experience a whole gamut of flavoured green teas ranging from the sweet citrusy and memorable notes of honey lemon ginger to the refreshing taste notes of mint green; This variety pack definitely has something for everyone and will leave a mark on your taste buds for sure.
More offers from Amazon India