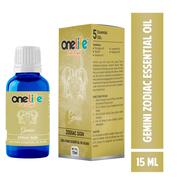 Onelife Gemini Zodiac Sign Oil 100% Pure Essential Oil for Aromatherapy, Massage & Aroma Diffusers - 15ML
About Product :-
Product Type: - Gemini – Essential Oils; Pack Of:- 15ml
Ingredients:- Eucalyptus Oil, Lavender Oil, Basil Oil, Bergamot Oil and Geranium Oil
This oil helps with respiratory congestion, which in turn brings healing O2 into aching extremities.
Disclaimer:- Do not expose to direct sunlight. Keep out of reach of children. Only for external use. Use with caution for pregnant and lactating women. The result may vary from person to person.
This is a perfect oil for the Gemini personality.
More offers from Amazon India