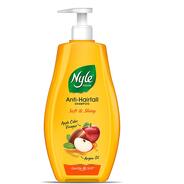 Nyle Naturals Soft and Shiny Anti Hairfall Shampoo, 800ml
About Product :-
REDUCES HAIR FALL :- Reinforces hair strength & prevents hair fall due to breakage. Provides advanced nourishment and protection.
INGREDIENTS :-With the goodness of natural extracts of Apple Cider Vinegar And Argan Oil, helping you enjoy Soft and Shiny hair.
SAFE FOR CHEMICALLY TREATED HAIR :- Made from all natural ingredients, the Shampoo does not do any harm & is suitable for all hair types. It is safe for colored or chemically treated hair.
USAGE :- Gentle enough for everyday use. Suitable For All Hair Types
Nyle is a gentle and Natural shampoo curated with the goodness of natural ingredients like apple cider vinegar and argan oil. It cleanses the scalp gently keeping your hair soft and shiny all day long.
More offers from Amazon India