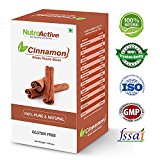 NutroActive Cinnamon Whole Round Sticks 100 Grams Dalchini Sticks
100% NATURAL - NutroActive Cinnamon sticks are naturally harvested bark of cinnamon tree. Bark of the tree is harvested while it is young; they are rolled into smaller pieces of 2-6 inches and dried to make beautiful cinnamon sticks.
SWEETEN RECIPIES - Cinnamon sticks are used to Sweeten Recipes due to its naturally occurring sweet taste; adding cinnamon to foods and recipes can help you reduce your consumption of sugar and thereby lowering the glycemic load of your meal.
CHEF'S CHOICE - Professional Chef's like to use Cinnamon sticks for developing great recipes because the sweet and spicy aroma of cinnamon makes food delicious and mouthwatering.
HOME REMEDIES - Cinnamon is used as home remedies in Indian households because of its several properties like antiseptic, antifungal. anthelmintic, antidiarrheal, antidote, antimicrobial, antispasmodic, aphrodisiac, astringent, carminative, digestive etc.
CORRECT DIET - Appropriate Diet Intake is the best way to remain healthy. If you have any queries regarding the product and diet, you may call our Nutritionist before and after purchase at NUTROACTIVE CUSTOMER CARE NO. given on the pack.
More offers from Amazon India