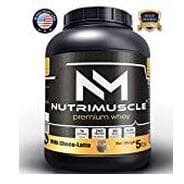 NutriMuscle Premium Whey Protein -5lbs, 76 Serving (Milk Choco-latte)
About Product :-
Our one scoop of 30 grams provides 24 grams of protein,12 grams Essential Amino Acids, 5 grams Branched chain amino acids, and 4.5 grams of Glutamic Acid
Imported Whey protein and other ingredients from USA.
It contains digestive enzymes.
It contains all essential amino acids and is best for muscle recovery and muscle repair
DOPE FREE ,GLUTEN FREE ,SUGAR FREE ,SOY FREE.
More offers from Amazon India