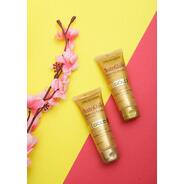 Nutriglow radiance booster facial foam face wash set of 2
About Product :-
Best for ACNE control.
Face wash works for your skin betterment.
Providing long lasting oil control to the skin.
It Cleans your face & moisten.
Usage: Apply Face Wash on a moist face and massage. Gently work up a lather using a circular motion. Wash off and pat dry and use twice daily.
More offers from Amazon India