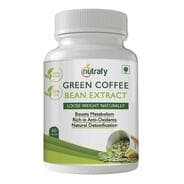 Nutrafy Pure Green Coffee Bean Extract 50% CGA 800 Mg 60 Capsules Weight Loss Supplement
About Product :-
Natural Formulation : Our Green Coffee Bean Extract is made with only the best, premium, and natural ingredients so you know what you are putting into your body. No harmful preservatives and no unwanted side effects!
The Safe And Natural Way To Lose Weight : With more and more weight loss products hitting the market today, it is hard to tell what you are putting in your body and whats doing more damage than good. You can be rest assured that our Green Coffee Bean Extract is made with Natural and premium ingredients so you know that you are putting the best inside your body
Metabolism Booster : The intake of these Green Coffee veggie capsules helps to lose fat, increase metabolism and boost energy naturally.
Suppress Your Appetite Easily & Naturally : Start kicking those cravings and the unnecessary eating to the curb. By taking a few little capsules a day, you will start feeling fuller and more satisfied longer. Each bottle is like your own little kick start to a healthier you.
More offers from Amazon India