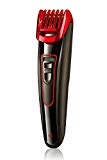 Nova NHT 1072 Fast Charge Titanium Coated USB Trimmer For Men (Black)
About Product :-
Power source : Battery operated , Quick charge technology USB , Adapter charging
Adjustable Trimming Range 2Mm to 18Mm, Detachable Head for easy maintenance
High Grade Titanium Blades, Upto 45 Minutes Of Cordless Use
Ultra thing heads with slots to trim long hair and set stubble
Charge the product For 2 Hours for a backup of 45minutes . This product is not suitable for direct plug and use.
Note - This trimmer has high precision blades. Please use it gently without applying too much pressure on the skin while operating it without the comb.
More offers from Amazon India