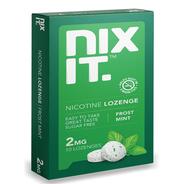 Nixit Nicotine Lozenge 2mg, Frost Mint Flavored Lozenge to Quit Smoking, Sugar Free, Pack of 3
About Product :-
Quitting smoking now becomes easier. Nurture your will power to quit smoking and curb your nicotine cravings with Nixit Nicotine Lozenges.
Nixit Nicotine Lozenge 2mg are a completely new innovative format launched for people desperate to quit smoking. They help reduce withdrawal symptoms with controlled release of nicotine, without the need to be chewed, hence making quitting easier.
Nixit Lozenge are available in frost mint flavors for the quitter to enjoy the refreshing taste throughout their course of leaving cigarette.
Nixit Lozenge 2mg are made sugar-free so that the consumers do not have to worried about the additional calories' intake during their journey of quitting smoking.
More offers from Amazon India