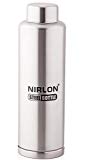 Nirlon Stainless Steel Water Bottle, 1 Litre, Silver (F_Bottle 1000ML)
About Product :-
A perfect pick for people of all age, this sipper from nirlon is ideal to store water and other beverages
This bottle is replacement of everyday plastic bottle.
These can be easily cleaned and are durable
The bottle is dishwasher safe and can be stored in the freezer as well
If, when dry, the smell remains then fill with water and put in the fridge for 24+ hours. This should remove the smell.
Wash bottle with hot soapy water then leave to drip dry.
The Product is Single wall and it is light weight.
Color:Silver, Material:Stainless Steel
Package Contents: 1-Piece Water Bottle (1 Litres)
This bottle does not keep water hot & cold.
More offers from Amazon India