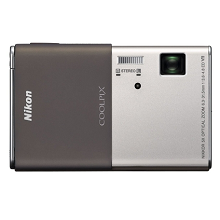 Nikon S80 Point & Shoot Camera Rs.9099 From Flipkart.com
Get Nikon S80 Point & Shoot Camera from Flipkart at a discounted price of Rs. 9099 only. We've found the best chance to grasp the best deals in town. This is the best price that is offered on this product. Now you can click your memorable moments with the quality camera. Some moments deserve more than a picture. It has stunning image quality and gives you amazing low light performance. Nikon is praised by countless photo enthusiasts and professionals. Hurry and order now before you miss the hot deal.
Add to Shopping cart
Place Order
About Products :-
The COOLPIX S80 is a stylish compact digital camera with an extremely functional design, equipped with a widescreen 3.5-inch electrostatic OLED touch panel and a wide viewing angle.

More offers from Flipkart