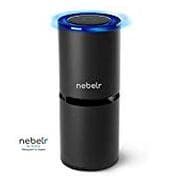 Nebelr Car Air Purifier Ionizer - Removes PM2.5, Smoke, Dust and Bad Odour, No Need Filter, 9 Million Negative Ions / cm3 Generator - Designed in Japan
About Product :-
?POWERFUL AIR PURIFIER AND IONIZER - Nebelr Car Air Purifier produces 9 million negative anions/cm³, the negative ion can quickly kill all kinds of bacteria, germs and viruses, and automatically remove dust, smoke, odors, pm2.5, pollen, formaldehyde, benzene, etc. from the air. Nebelr Car Ionizer effectively removes dust, smoke, odours, REMOVES PM2.5, benzene, smog, TVOC, etc and purifies the Air. Negative ions are called NATURAL OXIDATION which can refresh your mind and relieve driving fatigue.
?KILLS BACTERIA & GERMS - Negative ions not only promote the body's synthesis, store vitamins, but also activate physiological activities. It is also known as "VITAMINS IN THE AIR". It increases the density of negative ions in a car, providing Fresh Air. Useful for cleaner air for your kids & babies. Ideal for people who suffer from allergies, stuffiness, cough, sneezing. ? RELIEVE YOUR ALLERGIES & ASTHMA - Perfect for those with allergies or stuffy nose, and frequent travellers.
?NO NEED TO CHANGE FILTERS - No need to change filter is a great way for family to save money! ? GOODBYE FILTERS - Say goodbye to the hassle of replacing filters. It uses the latest technology in air purification; Using electrostatic purification, the Nebelr emits 8 millions of negative ions into the air forcing dangerous pollutants, allergens, pet dander or odors out of your sphere of clean breathable air.
? INBUILT FAN FOR POWERFUL QUICK 360 DEGREE PURIFICATION ? COMPACT AND PORTABLE - Tumbler design allows it to fit in any standard cup holder perfectly and steadily, compact size is quite convenient to carry. Aluminium alloy housing make it feels quality than the plastic shelled purifiers. Compact and attractive design with blue LED light enhances auto decorating. SAFE & EASY TO USE - Can be used continuously 24/7. The air purifier stays cool to the touch and is safe to use.
?NO NOISE - The noise of the car purifier is lower 30dB, which is almost not heard. ? DUAL USB PORT - Designed with two extra USB charging ports, perfect for charging your phones or other electronic devices while using the purifier. FOR CAR, HOME AND OFFICE - Not Just for the Car, the air purifier can be used to clean up the air in your home bedroom or office desk. ? ONE BUTTON CONTROL operation is also very simple, press the power button can be turned on / off with various speed setting design.
More offers from Amazon India