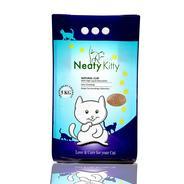 Neatykitty Premium Clumping Cat Litter 5 Kg
About Product :-
Quick Clumping - It Has A Highly Absorbent Formula Which Absorbs Faster And Clumps Quickly. This Makes Cleaning A Breeze As Its Mess-Free Easy Cleanup
Superior Odor Control - It Contains Fresh Fragrant Heavy Duty Odor Eliminators. Unique Anti-Odor Formula Eliminates Obnoxious Odor Including Ammonia. And Instant Absorbent Formula Traps Odor Inside The Clumps
No Crumbling - Strong And Crumble Free Clumps For Easy Cleanup (Scooping).;Long Lasting And Soft Touch - Less Litter Usage Hence Lasts For Long Period Of Time. Fine Texture Of Natural Bentonite Clay Granules Gives Your Beloved Cat A Naturally Soft Feel.
More offers from Amazon India