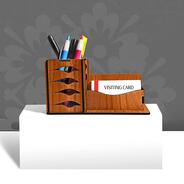 NAVDIYASALES Pen Stand With Visiting Card Holder | Multipurpose Wooden Desk Organizer Pen And Pencil Stand
About Product :-
>MULTIPURPOSE: This Wooden Pen And Pencil Holder Ha slOts Of Usage Like, As a Mini Desk Organizer, To Organize Your Desk Stationery Items And Also To Organize You Business or Visiting Card.
>SUITABLE FOR: This Pen Stand Is Enough To Store Your Pen, Pencils, Markers, Scissors, And Lot More Office Stationery Items Asl Well As We Can Use It As Visiting Card Holder In Our Office, Workdesk, School, Drowning Desk And Many Other Places.
>QUALITY: This Desk Organizer Is a Simple Product Build From Crafting Materials. It Has High-Quality Laminated Wooden Material. All The Parts Are Joined To Eachother With Heavy Liquid Adhesives. Over All Structure Of This Desk, Pen Holder Is Durable And Stable.
>DESIGN: Design Of Pen Holder Stand Is Simple But Attractive. This Pen Stand Is Decorative And Stylish Because Of Its Matte Wooden Finish. This Product Is Available In Two Colors. Wooden And White.
>HASSLE-FREE: We can Easily Organize Our Daily Use Items In This Multipurpose Pen Holder. It Is Easy To Clean And Manage. It Has a Standard Size So That We Can Put It At the Corner Of The Table.
More offers from Amazon India