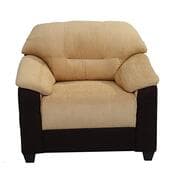 Muebles Casa Colton Single Seater Sofa (Beige and Brown)
About Product :-
Muebles Casa is one of very few brands in market with 18 months warranty on products instead of 12.
Sofa is made out of compliance material like kiln dreid wood reinforced with Furniture grade engineered wood.Polyurethane foam with 32 kg per cubic meter density for sea and 28kgper cubic meter for arms and back.
Easy to install with pre fixed legs.No need of carpenter assembly.
Designed in such a way that any living room even with small area can accommodate colton sofa set.
Comes in transit worthy packaging to avoid any damge during transpotation.
More offers from Amazon India