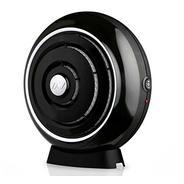 MTT Airtec Habanero Compact E-Nano Technology Ultra fine dust Air Purifier (Black)
About Product :-
As one of the most compact Air-Purifier, This unit can be used in living Rooms (sufficient for 200 to 250 Sq. Ft. ) to remove 99.9% of bacteria and Germs.
Eco Aladdin Air Purifier removes not only fine dust and smoke, but virus and bacteria by using E-Nano film filter and prevents sick house syndrome.
The PM2.5 which is generated though vehicle exhaust gas and factory fumes adversely affect the human body, as it enter through respiratory tract into smaller particles than pollen. Our Eco Purifiers removes fine dust smaller than PM2.5 to bacteria at once.
More offers from Amazon India