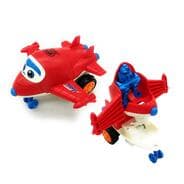 Mqfit Pull Push Back Action Robot Aeroplane Toy for Kids, Transformer Converting Mini Aeroplane to Robot | Transformer Toy for Kids and Children (Random Color)
About Product :-
Mini Aeroplane Toy is made of high quality plastic material with long durability and stylish as per safety guidelines.
It attracts kids make toddlers feel and touch the little toy and the running sound, which can inspire the kid's curiosity about outside world.
Action Development- By Chasing Game, Drive the baby to walk and chase the aeroplane. It is good for baby to exercise its motor skills and enhance the baby's coordination and balance.
Imagination Development- A variety of airplane sound effects along with the play process, vividly. It is good for cultivating baby's Imagination, to encourage baby to learn new thing.
Cheerful Music- In the music mode, the airplane goes universally and play cheerful songs, attracting baby to explore and follow it.
More offers from Amazon India