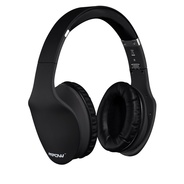 Mpow Muze Touch Foldable Wireless Bluetooth 4.0 Stereo Headphones
Free Shipping for Amazon Prime Members,
Subscribe
About Product :-
Mpow Muze Touch features a touch-controlled interface which adds a truly intuitive advanced control system to control your music in the right cup. Just Slowly swipe the control panel vertically to increase or decrease the volume; move your finger horizontally to move to the next track or go back to the previous song.
Highly tuned 40mm neodymium drivers produce provide pitch perfect audio with a thumping bass and detailed high end.
More offers from Amazon India