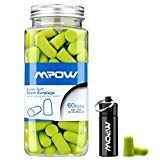 Mpow Foam Earplug for Noise Reduction 34dB NRR for Hearing Protection Dormitory Study Sleeping Industries Flight Airport Fireworks Meditation Snoring Shooting Travel , 60 Pairs with Aluminum Carry Case
About Product :-
Hearing Protector and Noise Blocker. Made from premium PU material, with a high noise reduction rating (NRR) of 34 db. Effectively protect hearing in loud events or set up quiet environment for sleep.
Gentle and Tender. 45s slow rebound, enough for you to set the earplug, gently fill the ear canal. Ultra-soft and low-pressure, cause no pain to the ear canal.
Hygienic and Portable. With a little pretty aluminum case for carry. It keeps earplugs clean and away from damages.
Economical and Affordable. 60 pairs of earplugs for use. You are advised to replace with a new pair of earplugs after every 5-day use.
Super 18 Month Warranty: Mpow is always dedicated to provide the best products and services to our customers. Each Mpow product has a 45 days' money back and 18-month warranty.
More offers from Amazon India