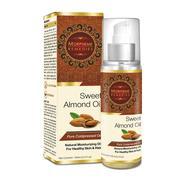 Morpheme Remedies Pure Sweet Almond Coldpressed Oil For Hair And Skin 100Ml
About Product :-
This Amazing Oil Is Extracted From Raw Almonds. It Owes Its Benefits To The Generous Amounts Of Monounsaturated Fatty Acids, Vitamin E, Potassium, Proteins, Zinc, And A Number Of Other Vitamins And Minerals It Contains.
Pure Coldpress Sweet Almond Oil Of The With No Added Additives. No Mineral Oil Added
Almond Oil Contains Vitamin E, Which Is One Of The Most Potent Antioxidants Known.
Almond Oil Is Light In Texture, And Can Easily Penetrate Deep Into The Skin, Softening And Dislodging The Dirt And Debris Accumulated In The Skin Pores And Hair Follicles.
Regular Use Of Almond Oil On The Hair Improves Its Sheen And Texture.
Free Shipping for Amazon Prime Members,
Subscribe
More offers from Amazon India