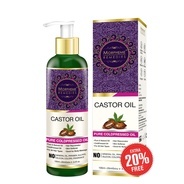 Morpheme Pure Cold Pressed Castor Carrier Oil, 100ml
Free Shipping for Amazon Prime Members,
Subscribe
|
More Products
About Product :-
Pure ColdPress Castor Oil of the Best Quality with no added additives. No Mineral Oil Added
Highly useful for hair to strengthen the hair shaft, nourish the roots.
Highly useful for skin moisturizing, scars, stretch marks.
Face: Castor oil is best as a face cleanser. Eyelashes: Apple castor oil to your eyebrows & eyelashes.
More offers from Amazon India