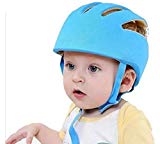 MIMISKU Baby Safety Helmet with Corner Guard & Proper Ventilation (Blue)
About Product :-
Main Function: Helps in avoiding or mitigating damage to baby's head upon collision with corners or when they hit their heads while crawling, walking, playing. No bumps or serious damage to your lovely baby as DearJoy safety helmet protects his/ her head.
Applicable Age: Nine months to sixty months (5 years).
Size: Adjustable with head circumference of 43 cm to 56 cm.
Key Features: Very soft, ultra light weight (65 g), Good shock absorb capacity, proper air ventilation to avoid sweat.
Main Materials: Facing: 100% Cotton; Lining: 100% Cotton, Filling: Special IXPE to Maximize Shock Absorb Capability.
More offers from Amazon India