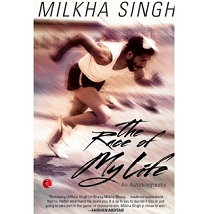 Milkha Singh The Race of My Life: An Autobiography Rs. 125 From Amazon India
Amazon.in offer Diwali discount of Flat 50% OFF on Milkha Singh The Race of My Life: An Autobiography. Buy it at just Rs. 125 only. In this book Milkha singh experiences has been shared. The book is affordable and suit your budget. Shop now to avail the offer.

Add to Shopping cart
Final Price = Rs. 250 - Rs.125 Off = Rs. 125 + Free Shipping
Place Order
Book Description
Milkha Singh has led a life dominated by running, running, running. From a boy who narrowly escaped death during Partition (Most of his family was not so lucky), to a juvenile delinquent who stole and outran the police, to a young Army recruit who ran his very first race to win special privileges for himself (A daily glass of milk). After that first race, Milkha Singh became an athlete by default and what followed was the stuff legends are made of. In this remarkably candid autobiography, Milkha Singh shares the amazing highs of winning India's first ever gold in athletics at the Commonwealth Games, the unbridled joy of being hailed as the 'Flying Sikh' in Pakistan, as well as the shattering low of failure at the Olympics.
More offers from Amazon India