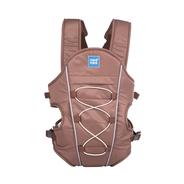 Mee Mee Sling Carrier (Brown)
About Product :-
Child can be carried in 3 safe & convenient ways - facing inwards towards the chest in kangaroo style, facing outwards in kangaroo style and held against the back.
Soft detachable pillow is provided for supporting baby's head while held in kangaroo style.
A detachable and washable cotton bib is provided to look after the baby while using the carrier.
A padded waist belt for parents is gentle on the skin and ensures safety and better balancing ability while using the carrier.
Can be used from birth till 18 months.
For assembling and other queries, contact Mee Mee Customer Care at 8080335566.
More offers from Amazon India