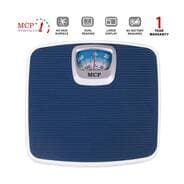 MCP Deluxe Personal Manual Analog Weighing Scale upto 130 kgs capacity for human body weight machine (Mechanical Weighing Machine)
About Product :-
Weight upto 130 kg Capacity
Easy To Read And Easy To Understand. It Is Durable And Shows You Accurate Results.
NOTE: The machine might need zero calibration. If the needle doesn't point to zero don't worry, the machine is not faulty. It just requires you to set it to zero with the help of the rolling button at the bottom. Do not weigh on carpet on any other soft material. Kindly use only on hard surface
The scale shows both Kgs and lbs. It is a mechanical weighing scale before weighing the user must ensure it pointing to 0.
Weigh yourself same time each day without meals and without footwear. First thing in the morning is good time. Repeated weighing is not suggested.
More offers from Amazon India