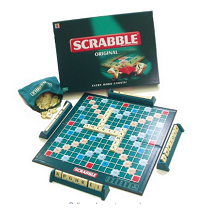 Mattel Scrabble Original Rs.300 From Amazon.in
Buy Mattel Scrabble Original
Add to Shopping cart
Fill Shipping Details
Make Payment
Place Order
About Product :
Unisex
Scrabble is the classic word game
Make the best word you can using any of your 7 letter tiles drawn at random
Your word must use a letter tile already in play on the board
Scores are given for letter values and are boosted by premium squares on the grid
For 2-4 players
Mattel Scrabble Original now at Rs. 330/- only on Amazon.in. Grab this unbeatable discount of 60% on this wonderful game that can be played by the whole family! The game is meant for 2 - 4 players and has to be played using alphabet tiles. Players are made to think of different word formations using alphabet tiles alreayd on the playboard. Scrabble is the ultimate Word game that helps build the vocabulary of the growing children. A fun way of learning indeed!

More offers from Amazon India