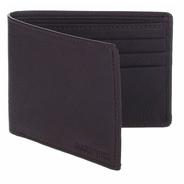 MARKQUES Brown Men's Wallet
About Product :-
1.Craftsmanship: Handcrafted in PU Leather. The material meant to give extra shine leather texture and may also improvise through age like any other high quality leather.
2.Card Slot and Compartment: 6 Debit/Credit Card Slots, 2 Secret Pockets. And 2 Paper Currency Compartment.
3.Branded Packaging and Warranty: All MarkQues products comes with branded Box/Packaging for gifting purpose and all products comes with minimum 6 months warranty.
More offers from Amazon India