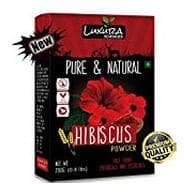 Luxura Sciences Hibiscus Powder For Hair Growth 200 Grams, Hibiscus Flower Powder Natural.
About Product :-
Hibiscus conditions dry hair. Strengthen hair. Regular use of hibiscus controls damage of hair. Hibiscus prevents hair from breakage resulting into long and strong hair. Volume boost : With regular use of hibiscus, hairs become thicker and denser
In Ayurvedic traditions, hibiscus flowers are considered highly sattvic and sacred. They are used in spiritual practices for their ability to open the heart and encourage love and devotion. When used internally, hibiscus removes excess heat from the body .
"Luxura Sciences" is committed to producing the highest quality products and Natural Herbs that are sustain-ably sourced and fairly traded. All our products are 100% natural and processed in FDA Registered Facility in India. "Luxura" products bring you closer to nature & mother earth. We believe in creating for our customer by making them healthier. Our processors take care that each and every products is processed in the purest form and packed hygienically. To help you get the best utility,
Hibiscus is well known for its ability to support thick hair gro'wth while imparting a healthy shine and luster. The powder is commonly combined with henna for a natural hair dye process, and it is an important ingredient in many DIY beauty products like soaps, skincare, and natural blush.
More offers from Amazon India