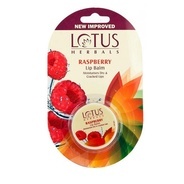 Lotus Herbals Lip Balm - 5gm
Free Shipping
About Product :-
Strawberry Extract - Rich in polyphenols- a natural antioxidant. Soothes & tones the skin.

Honey- Skin emollient & antimicrobial properties.

Jojoba Oil- Excellent skin moisturizer & nourisher.

Almond Oil- Excellent emollient & skin nourishing properties. Natural source of Vitamin E. Wheat germ oil- Rich source of Vitamin E, Antioxidant & skin nourisher.