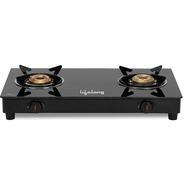 Lifelong LLGS912 Automatic Ignition 2 Burner Gas Stove with Toughened Glass Top (1 Year Warranty, Black)
About Product :-
Push the Knob and rotate to Switch-On the product
High Efficiency 2 burner Gas stove with spill tray
2 Burner Automatic Ignition; Rotary Knobs
360 degree mutli-directional gas inlet nozzle on the backside
Anti- slip legs, Heavy duty pan stands
1 Year Brand Warranty; Made in India
We provide service at your doorstep with our network of service centres across India.
Product is ONLY compatible with LPG. It cannot be used with PNG.
More offers from Amazon India