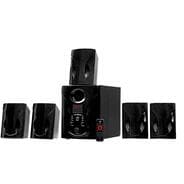 Krisons 5.1 Bluetooth Multimedia Speaker Compatible with TV/Laptop/Smartphones/Multimedia Devices,Black
About Product :-
5.1 Speaker - A set of 5 satellite speakers and 1 sub woofer enables you to experience theatrical effect
Connectivity - The speaker can be connected with any LED TV/ Mobile Phone/ Laptop/ Tablets/ PCs/ all Mp3 devices and gaming consoles
Bluetooth - The speakers can be connected to any Bluetooth device(2.0 Bluetooth) by just empower yourself to go wireless
Compatible - The speaker has in-built USB socket for you to just plug-in and play your favorite playlist.
The speakers has AUX IN socket to make it universally compatible with all devices through 3.5 mm Jack and also a free AUX cable is provided with the speakers.
FM Radio - The speaker has in-built FM with preset channels and also automatic/manual tuning for you to enjoy music.
More offers from Amazon India