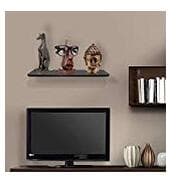 Klaxon Front Glass Shelf - 18 * 6 Inches - Black (Without Railings)
About Product :-
Material: Glass, Color: Black
Package Contents: 1-Piece Front Glass Wall Shelf
No warranty
Klaxon offers this unique variety of glass shelf. Decorate your home interior by installing our premium range of glass shelve with 18 inch x 6 inch size, brass material fittings will give good quality strength and shine. Easy to install. Durable, convenient and unique design product.
More offers from Amazon India