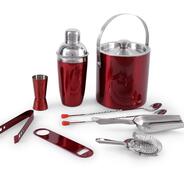 King International Stainless Steel Red Bar Set, Bar Set for Drinks Home, 9 Pieces
About Product :-
ALL IN ONE Package contents: set a 9 pieces bar set includes- peg measure, bottle opener, cocktail shaker, ice tong, ice bucket, ice picker, bar strainer, 2 bar spoon. Our bartender kit professional is made of premium quality materials, making it strong enough to serve you for many years.
? EVERYTHING YOU NEED : 9-Piece ALL-INCLUSIVE bar set, bar tool set of serious quality bar accessories. Will give you the power to whip up impressive cocktails for your guests. Whether you're an amateur bartender or a professional cocktail mixing guru, whether you're setting up a bar at home or at work - King International Bar Set is a brilliant way to hit the ground running.
VERSATILE BAR SET : You can create drinks that made from a wide variety of liquors with this professional Cocktail/Martini shaker stainless steel model, including: Mojito,Martini, Margaritas, Whiskey, Scotch, Vodka, Tequila, Gin, Rum, Sake and more. You can use it for mixing any kind of drinks you want. That's why this cocktail shaker is the ultimate bartender tool
MIX COCKTAILS LIKE A PRO USING BAR SET » This bartending kit makes professional-level mixology shockingly easy. With all the essential bar accessories and leak-proof cocktail shaker, you won't have to worry about any mess, spillage, or getting your measurements wrong.
More offers from Amazon India