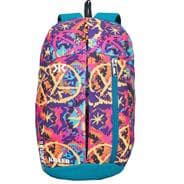 Killer Jupiter Flower Small Outdoor Mini Backpack 12L Daypack
About Product :-
Made of High grade PU coated polyester Fabric. Highly Durable And Long-Lasting Performance.
Backpack is ideal for occasional travel hiking outdoor tour and day-to-day use
Dimensions: 9.5x16x4.5 inches [WxHxD] Weight: 220 gms; Capacity: 12 Liters
Small Trendy Multi-purpose Hiking Backpack - Small Size Bag, Not Meant for Carrying Laptop
Adjustable open angles advanced storage design quick access front pocket to get small items more easier.
More offers from Amazon India