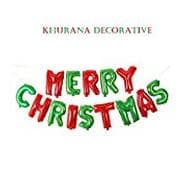 Khurana Decorative Merry Christmas Red & Green Letter Balloon Alphabet Foil Balloons for Happy New Year Party Decoration Christmas Eve Party Ornament
About Product :-
Please note, if you find foil balloons in wrinkle condition due to tight packing/shipping don't worry, once the fill with air completely, no wrinkle would be visible. After 5-7 days if you think air pressure is little low, please fill with more air and enjoy using it. Do not worried about the thickness of the balloons, it is made with very good quality of material
Material : Aluminum Film
High Quality
Ship Non inflated
Khurana is a registered trademark. Violations and infringement is illegal.
More offers from Amazon India