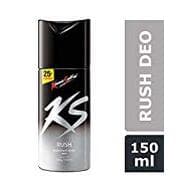 KamaSutra Rush Deodorant for Men
About Product :-
Woody Fragrance - KS Rush Deodorants have a woody and masculine fragrance that will help intensify desire in women. Fan the flames of desires with this masculine fragrance.
Long Lasting - KS Rush Deodorants will help in keeping you fresh and alive all day. The woody fragrance will last for longer hours providing you the feeling of being revitalized and energized.
Feel Confident - Feel free and confident to use this deodorant before going to work, hanging out with friends, a date-night or before hitting the gym.
Stronger Fragrance - Rush deodorants are 25% more stronger than any of the other products. A single whiff of this deo will create a lasting impression.
Choice Of Every Indian - KS Rush have been the ideal choice of Executives, Collegians, School going Children, Actors and Gym Enthusiasts.
Usage Instructions - Shake well before use. Hold can 15 cm from underarm and spray. Do not spray near eyes or on broken skin or sensitive areas. Keep out of reach from children. Keep away from source of ignition and direct sunlight.
More offers from Amazon India