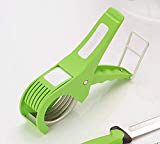 K. T. S Super Vegetable Cutter Chopper Plus Peeler (Green)
About Product :-
Sleek and compact design allows easy storage, occupying very small space.
Very quick to cut accurate pieces of vegetable and some fruits easy manual wash and dry after wash.
Package Contents: 1-Piece Vegetable Cutter.
Strong Body to perform muscular task lightly.
Food Grade Plastic & Light Weight Handy & Comfortable 45 mm Radius Round Blades Made In India.
More offers from Amazon India