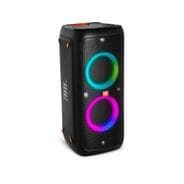 JBL Party Box 200 Bluetooth Party Speaker(Black, Stereo Channel)
About Product :-
Power Source: DC Cable, AC Power Cord
Wireless music streaming via Bluetooth
Portable with 12V DC Source
Customer needs to Call Harman Customer Care Toll Free Number (1800 102 0525) to Register any Complaint on the Product.
Connect wireless & plug in your mic or guitar and take the stage.
USB recharging for external devices.
Immersive audio experience that only JBL Signature Sound can provide
There's a light mode for every mood: Meter, Pulse and Party mode.
More offers from Flipkart