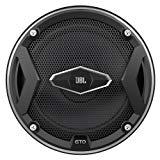 About Product :-
True 4 Ohm Technology Three-ohm voice coils in the JBL GTO 509C compensate for the added resistance by thin factory-installed speaker wiring. They also provide more output than other factory-installed speakers of the same class.
Vented magnet assemblies The JBL GTO 509C speakers feature vented magnet assemblies on the woofer/midrange driver to help cool the voice coil. Keeping the voice coil cool adds to increased reliability from greater power handling and helps eliminate power compression that can distort the speakers' sound.
Frequency response up to 21kHz A wide frequency response that extends beyond 20kHz helps compensate for speaker-placement variations in your car and for human hearing deficiencies in the high-frequency spectrum above 15kHz. The result is that the JBL GTO 509C's 3/4-inch (19-millimeter) component tweeters deliver more of the full-range frequency response that you associate with great sound.
High sensitivity (92dB@2.83V/1m) High sensitivity allows a wide range of power to provide great sound without overdriving the audio system. With a sensitivity of 92 decibels at 2.83 volts/1 meter, the JBL GTO 509C two-way component speakers achieve excellent volume and musicality with as little as 5 watts RMS. That simply means better performance overall with moderate power driving the speaker. And better performance makes the GTO 509C two-way component speakers an ideal replacement for factory
Edge-driven, soft-dome tweeter diaphragms The edge-driven, soft-dome-tweeter design in the JBL GTO 509C's 3/4-inch (19-millimeter) component tweeter increases power handling while reducing high-frequency distortion. Edge-driven tweeters also have better dispersion characteristics and allow a lower crossover frequency, which improves imaging. The result is better vocals and clarity in your music. There's no sense having it loud if it doesn't sound clean, too.
More offers from Amazon India