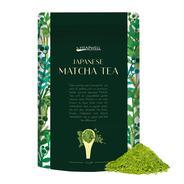 Japanese Matcha Green Tea Powder 50g - By Heapwell Superfoods
About Product :-
JAPANESE MATCHA: Carefully chosen, handpicked and stone ground from the summer crop of mountains in Kyoto & Kagoshima to maintain it's freshness and aroma.
POWERFUL ANTIOXIDANTS: Matcha is believed to be a great Source of Antioxidants & Amino Acids Including (EGCg) & (L-Theanine).
PERFECT FOR DETOX: Cleanses & Detoxifies the Body, Boosts Immune System, helps Weight Loss By Boosting Fat Metabolism.
MOOD AND MEMORY ENHANCER: Our matcha green tea contains high amount of amino acid L-theanine. Matcha is the perfect choice to help you relax your mind and improve the focus. Matcha Tea equally lifts up your energy level and thus it can promote better concentration.
Free Shipping
More offers from Amazon India