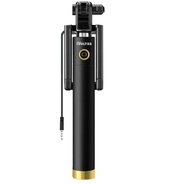 iVoltaa Next Gen Compact Selfie Stick Wired for iPhone and Android
Free Amazon Prime Membership For New Users -
Subscribe
About Product :-
Selfies are more than just a trend. There may be times you'd find yourself in an amazing place or situation and there's no one else to take a photo of you in it. Take snapshots of these memories with you in it with these Mobile Selfie Accessories.

Perfect for those who travel especially on their own, these Mobile Selfie Accessories lets you take these selfie photos with ease.

You may also use these accessories in video diaries or blogs, when you're hiking or camping, weddings, parties, the beach, concerts, aerial photos, sports events and so much more.
More offers from Amazon India