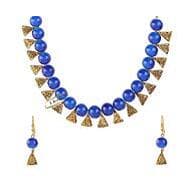 I Jewels Traditional Gold Plated Pearl Necklace Set with Earrings for Women (M4124BL)
About Product :-
This beautiful Necklace set with Earring is extremely light in weight.
Can be worn for engagement and wedding parties.
This stunning earrings goes along well with a casual dress and can also be used in any traditional function.
Indulge in it or gift it and watch the compliments flow!
It is advisable to store jewellery in a zip lock pouch (air tight pouch), keep away from water perfume and other chemicals and clean it with dry and soft cloth.
More offers from Amazon India